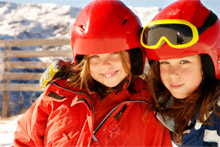 The Manchester Ski Club is an organization devoted to increasing the enjoyment and availability of skiing to enthusiasts of all ages and abilities.
Formed in 1942, our club is 77 years old!
Club meetings are held in October, December, and April of the ski season.
Our membership is made up of families, children, and singles from many different states around New England.
The Manchester Ski Club owns a large house (the Lodge) for the use of its members, located less than a two minutes from the base of Okemo in Ludlow, VT.
Our Lodge is a regular stop for the Okemo shuttle. The weekend bus service makes it easy to get to Okemo.
The Lodge is available year-round for members by reservation. Payment of an annual Lodge fee & nightly fee is required.
We are always pleased to welcome new members from any state!